Race Across America 2015 – Part 1 – Colorado

We have to stop. I'm freezing. I relayed this on the radio and stumbled off my bike, shivering and off balance. Irritated. Why am I so cold? I had already put on warmers when we stopped to put lights on my bike. The sun was down now, the sky a deep blue, moving quickly to black. The 100 degree temperatures of the day, only a few hours old, were already forgotten.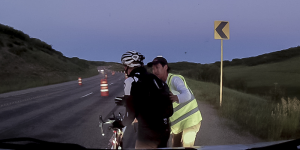 David grabbed me and guided me to the van. The barn doors were swung open and I plopped down on the van floor, shaking as the crew scrambled to bring out more clothes. "It's arctic out there. How cold is it?" I forced out through uncooperative lips. "Upper 50s.." I heard back. The cool breeze passing over the surrounding mountains was a polar blast. No. It must be colder. Double up the warmers. Balaclava. Thicker gloves. Vest. Booties. I was restless but useless, watching the crew strain to force the extra layers on my swollen limbs. We were over 8,000 feet and I dreaded the long descent to Durango.
Something was seriously wrong. We didn't quite know it yet. It was all moving so fast. The time at least. But I was still stopped. And I needed to get back on the bike. This is a race. Bundled up now and rolling, I eased down the grade, teeth still chattering, headed toward Santa Rita Park, finish line to the Race Across the West. A year prior I had been rocketing down the same grade – basking in the warm afternoon sun, savoring the last few miles of the longest race I had ever done. Now, the 2 days and 850 miles behind me were only a prelude to my path ahead. The Pacific Ocean, the relentless heat of the desert, the mountain passes. There is nothing but forward…the Rockies, the plains, the Appalachians, the Atlantic, the finish line over 2,000 miles away. But can't think of that either. Only what's next.
My sleep break. This would be my second. We had gone down for an hour or so, just 300 miles back. I had wanted to go on, maybe even over Wolf Creek Pass and across the Continental Divide before stopping, but not feeling like this. Despite great teamwork and metered pacing, the conditions and terrain had worn me thin. We had suffered through a mid-June heat wave in the desert – 10 degrees hotter across the board than the prior year. And now I was frigidly cold in mild temps, even bundled up enough to handle subzero. The pressure of the layered clothes called out how swollen I was. An hour or two of sleep could fix this, right?
The descent – what should have been a sweet reward to the tough climb before, was now just another stretch to buckle down and suffer through. Santa Rita Drive. Right Turn. Relief. No joy, like last year. No cheering. No finish medal. All business. Airey and Terry, the night crew, were there waiting, and guided me to our spot. Off the bike, into the van, heater on blast. Peeled off the layers and lay down on the pad stretched out on the floor. As I settled down I listed my complaints. Losing power, feeling cold, not breathing well. Maybe I didn't need to say anything, it was starkly obvious to the crew.  Slurred words, swollen lips, face, hands, feet. Still occasionally shaking. I ate, drank, cleaned up, and instantly fell asleep.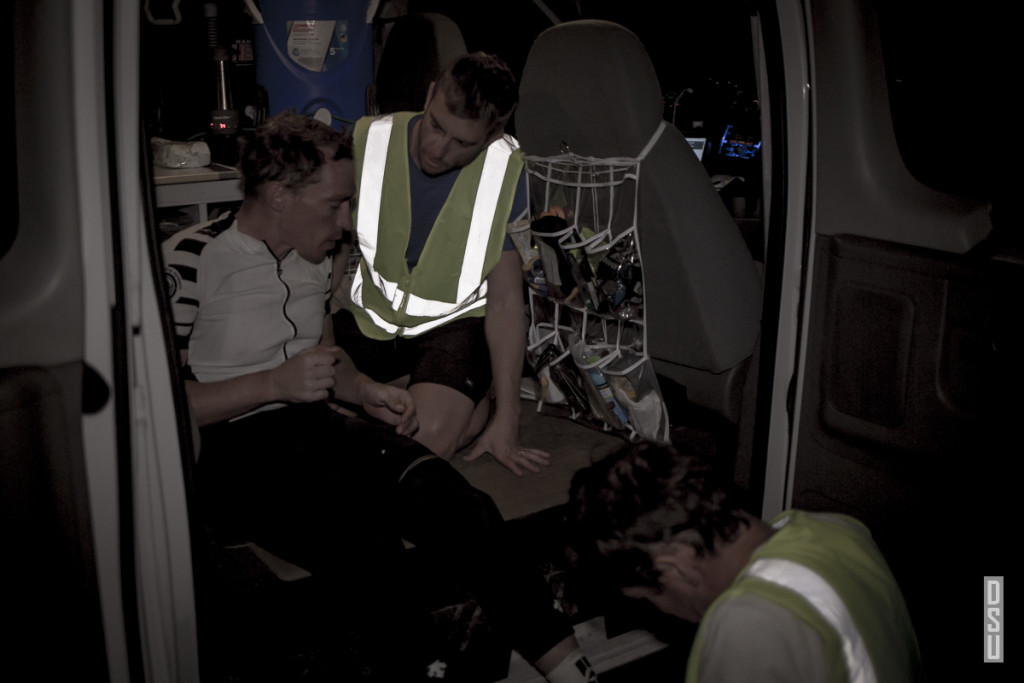 My eyes bolted open. Airey was shaking my shoulder. Wake up bud, let's go.  They had set out my clothes. Time for the cold gear. It was 1 AM. It would only get colder, and the pass ahead was 4,000 feet higher. We didn't know why, but we knew I was on a knife edge. Long sleeve. Assos thermal vest. Thermal bibs. Warmers. Face mask. The clock was ticking. Why does this take so long? I need to be riding.  Shoes. Lights, GPS, helmet. Time to move.
We rolled out from the parking lot, now filling up with the RVs and crew vehicles of other racers. Through the sleeping town of Durango and into the deep black of the surrounding forested mountains. My legs were wooden. Cobwebs. Something. I could feel the altitude. Way too much. The road pitched up. I tried not to think about it as A, T and I settled into our night protocol.
The routine was to wake up and charge through the night, keep my eyes open and wheels turning, struggle to get my calories and fluids in, and pass the time by sharing big thoughts and deep conversations over the comm system. The afternoon race start meant we were now pushing through the early hours of the 4th day on the bike. What did this mean to us? It was happening. RAAM. All the preparation, planning, training – crew and rider. We had all put so much into this, and it had become the here and now. This was my dream – even better, this was also reality. My friends were along for the ride – putting everything they had to keep it going. The beauty of this moment was staggering. I pushed aside my current physical struggle to focus on this. My eyes teared a bit as I lived in the moment, suddenly blissful and perfect. For all this, it's really not so bad! I gushed over the radio, genuinely happy. 900 miles in, already up into the Rockies and, we're doing well! How awesome is this…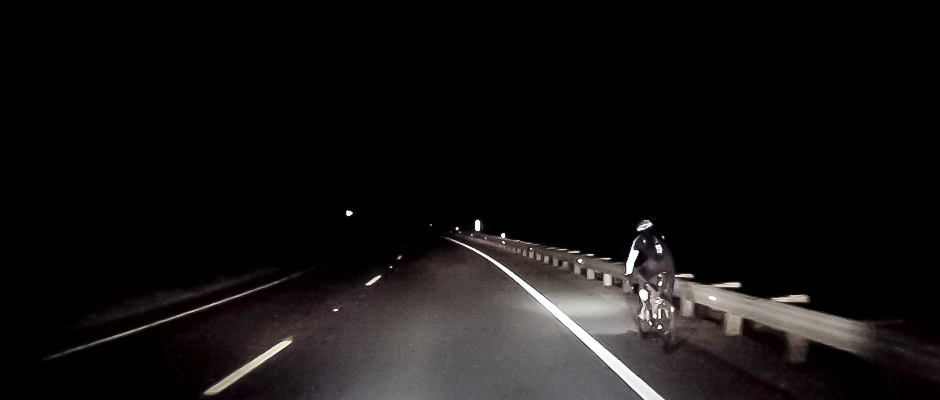 But there was a nagging feeling I couldn't quite articulate. The dream was threatening to become a nightmare. My overactive brain reasserted itself as it struggled for oxygen. I was worried. I feel empty, I've got nothing. "You're looking good. Smooth pedals, spin up this!" Airey encouraged. I kept rolling but it was getting harder. I didn't want to eat, I was too cold, and nearly all my concentration was going to keep the pedals turning. I gathered some willpower and choked down an ensure.
As I settled in, zoned out and tried to embrace my limitations, we suddenly had some company. "Rider back…we're going to move over to let him through." Before long Dave Haase came around into the lights, offered some encouragement, and blew by. It was good to see him, another fellow traveler in the night. It had been 500 miles since we'd last traded places. Race your own race. I let him go, watching the flashing ambers of his support van pull away and disappear around a bend. Not like it was a choice. He was riding strong and his quick pace underscored just how rough a shape I was in. Back to the grind.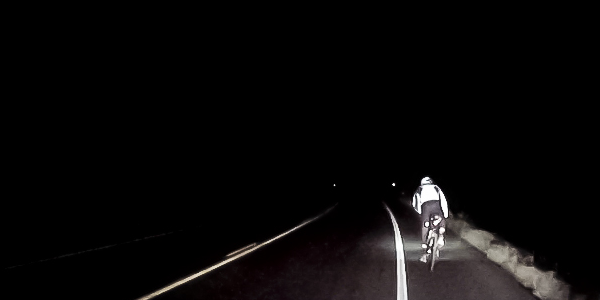 The excitement over – the temperature was falling, and I wasn't feeling better. We stopped at the top of a rise for me to regain myself. The will to stop means something is amiss. We knew it. I jumped in the front seat and pressed my hands to the vents to warm them. My breaths felt shallow. I had done my best to prepare myself for any malady that might afflict me during the days out on the road. Every problem had a plan and mitigation strategy. Everything except my biggest concern. Lung issues. Too many top riders had suffered race-ending respiratory conditions, edema, embolisms, pneumonia – and always in the thin mountain air of Colorado. The advice we had gotten was – monitor your blood oxygen saturation. If this gets too low – you need to seek medical attention immediately. Hardly confidence inspiring, but at least we knew what to do. Airey pulled out the pulse oximeter.
The digital display blinked as it monitored my oxygen levels, finally settling on a harsh red 85. We didn't know much, but this was certainly far too low. Anything under 90 is serious trouble. I tried in vain to take deeper breaths. We had to be careful here. I climbed back on the bike. Maybe I just needed to go slower than my already lumbering pace. Yellowjacket Pass was just up the road, followed by a long descent to the little mountain town of Piedra. I could make it down and recover in the barely thicker air. Maybe. I was feeling sleepy again. Shouldn't be, it was only a few hours off of a long break. I dragged myself up the climb to the pass, knowing I couldn't go on much further like this. Freezing and drowsy as I neared the top, I jumped in the car to put on thicker gloves and down some warm oatmeal, closing my eyes and flirting with sleep as I ate.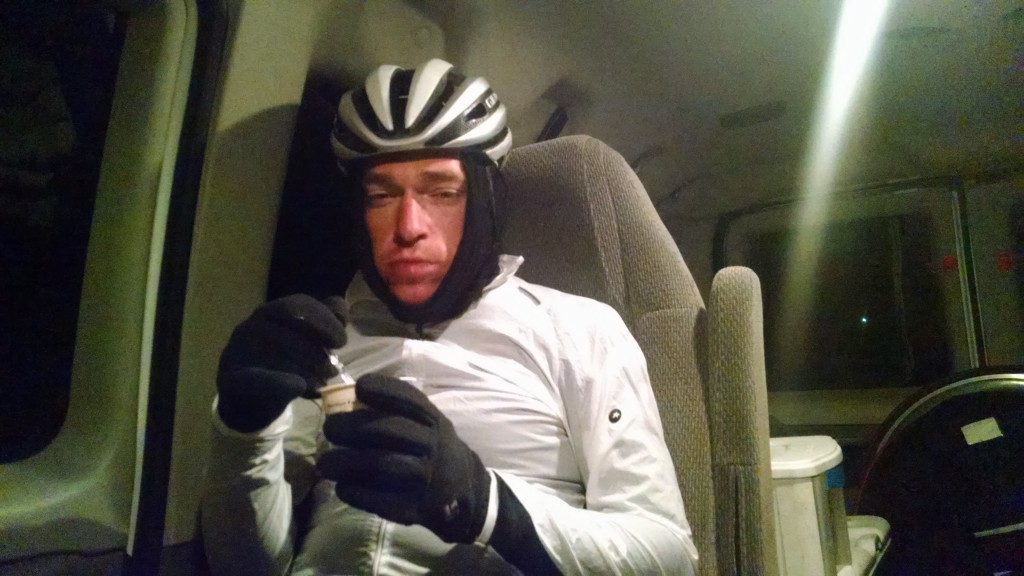 A few minutes later and I was back out and rolling in the chilly dark night. I struggled to stay alert on the 8 miles of steady descent to Piedra. The road leveled off gradually and crossed a river. It kicked up ahead, the beginning of many miles of ascent.  I was in no condition for that. We spotted a gravel turn out next to a jerky shack.  With a sense of sad relief I pulled off onto the dirt.  I jumped into the van, shivering, short of breath, and not feeling right. Still bundled up, still chilled in the warm van, I quickly fell asleep.
I opened my eyes to the sky outside the van – light with the pale blue of a fresh mountain dawn. Wait where am I? The oximeter was already on my finger as I blinked and regained my bearings. Airey looked concerned. The number wasn't good. I didn't ask, but I knew what it meant. Hushed tones up front and we started moving. The tires spun a bit on the gravel as Terry pulled back on to the highway. I felt a lump in my throat and a profound sinking in my already nauseous stomach. " This is racer 518 crew….we are leaving course, mile 36.7 past TS 15  – seeking medical attention." There was no choice…but I didn't want to hear this. I took as deep a breath as I could and fought back the rush of overwhelming raw emotion consuming me. One step at a time. It's not over…